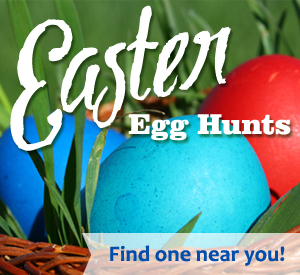 Are you on the hunt for an Easter Egg Hunt? We have a few in the area that you and your family are welcome to join!
Does you church or community hold an Easter Egg Hunt every year? We'd love to add them to this list. Please add the event to our community calendar so every one can know!
Easter Fun Day!
Date: Saturday, April 19, 2014
Time: 10:00 AM
Location: Milwaukie Covenant Church
12201 SE Linwood Ave, Milwaukie, OR 97222


Easter Egg Hunt and Family Brunch
Date: Saturday, April 19, 2014
Time: 10:00 AM to 11:30 AM
Location: Calvin Presbyterian Church
10445 SW Canterbury Lane, Tigard, OR 97224

Indoor Egg Hunt with hundreds of eggs for Toddler - Fifth Grade children. Followed by brunch for the whole family including eggs, waffles, fresh fruits and other treats. Plus a petting zoo of baby spring animals!
Easter Egg Hunt (Gresham)
Date: Saturday, April 19, 2014
Time: 10:00 AM to 12:00 PM
Location: Powell Valley Covenant Church
1335 SE 282nd Ave, Gresham, OR 97080

Please join us at our annual Easter Egg Hunt. We will have a bouncy house, the city of Gresham Police Dept. and the Fire Dept. will be present to hand out stickers, and the kids can tour the Fire truck. We will have games, vendors, food, and a FREE clothing closet will be available. Of course it wouldn't be complete without the Easter bunny! come join us from 10am-12pm.
Alpenrose Easter Egg Hunt 2014
Date: Saturday, April 19, 2014
Time: 10:30 AM to 1:00 PM
Location: Alpenrose Dairy
6149 SW Shattuck Rd, Portland, OR

This free event is hosted by Alpenrose dairy and has become a special treat and tradition for families and their kids since 1962. The vast amount of acreage at the dairy makes it an idyllic setting for the hunt and families often make this an entire day event by packing a picnic lunch. The day's egg-citement begins at 10:30 AM for kids ages 3-5 as they hunt for chocolate eggs, toys and other fun treats. The hunt for kids ages 6-8 will begin at 12:00 PM. The Grand Prize for kids will be six-foot Easter bunnies (one for each age bracket). Children often end up with a bevy of treasures from the hunt. Alpenrose officials are encouraging egg-hunters to arrive early since parking is limited. Alpenrose Dairy is located at 6149 SW Shattuck Road in Portland. Alpenrose Dairy has been family owned and operated since 1916.
Community Easter Egg Hunt
Date: Saturday, April 19, 2014
Time: 11:00 AM to 1:00 PM
Location: Portland Metro Church
5004 NE 6th Ave Alberta St. Portland, OR 97211

Kids, grab your baskets and the whole family for this fun afternoon - rain or shine! There will be thousands of eggs filled with candy and toys! Ages 0-5 will hunt for eggs at 11:00am, then ages 6-11 will hunt at 11:20am. You could win one of many filled Easter baskets! Other fun activities include: bounce houses, arts & crafts, carnival games, music, and free hotdog, chips, juice & coffee.
Easter Service/Breakfast/Egg Hunt
Date: Saturday, April 20, 2014
Time: 9:00 AM to 1:00 PM
Location: Columbia View Wesleyan Church
16700 NE Halsey Portland, OR 97230

Columbia View Wesleyan Church will be having an Easter pancake breakfast at 9:00 AM. Followed by an Easter egg hunt for the children at 9:45 AM. And a very special Easter service for all at 10:45 AM. All are welcome.